3G and 4G modems for industrial applications
Industrial modems differ from normal consumer modems that they are designed for harsh environments. They might include e.g. multiple power source, able to use multiple operators at once, more stable and faster connections and they can withstand demanding environments. These modems are packed in fully metallic enclosure, which can take a lot of abuse. The built-in programming environment of many industrial modems ensures that the device can be customized to your own needs. all of this creates a wider range of uses for industrial modems.
Industrial modems are designed to meet the connectivity challenges of industrial IoT and connect infrastructure effortlessly and reliably. In addition, they offer a long and stable life cycle as well as low power consumption, which is important for IIoT projects.
On below we will take a closer look at the technology and features of industrial modems and their differences.
3G industrial modems

Every 2G system's benefits are included in 3G standard, including encryption, SMS, MMS and GPRS data services. These features make 3G modems an excellent choice when it comes to updating connections on a large scale on industrial or public infrastructures.
3G that is designed for connecting mobile phone to internet is a common calling name for 3rd generation wireless data transfer technology. Most of 3G networks operate at 800 MHz, 850 MHz, 900 MHz, 1700 MHz, 1900 MHz and 2100 MHz frequencies. In Finland, mostly UMTS network, 900MHz and 2100 MHz frequencies.
The 3G network achieves a reasonably low network connection delay between the two terminals in industrial use (one third vs. 2G). This means that the first byte is received at the destination much faster than before, reducing the latency of the entire system. This allows for more real time and secure critical applications as well as much faster response times when sending and receiving data over the network.
Nowadays, 3G network is not being updated or added with newest features anymore. For this reason the are not recommended as a solution for new models or updates.
The table below shows the standard operating speeds for the various technologies of the 3G network.
| | | |
| --- | --- | --- |
| Network technology | download speed (Mbit/s) | upload speed (Mbit/s) |
| UMTS | 0.384 | 0.384 |
| HSDPA | 7.2 | 5.76 |
| HSUPA | 7.2 | 5.76 |
| HSPA+ | 42.2 | 22.0 |
See popular Teltonika TRM-240 4G/3G/2G industrial modem here
4G industrial modems

Designed for broadband Internet access, 4G is a fourth generation wireless technology. It operates at 900, 1800 and 2600 Mhz frequencies. Often with it you may see an abbreviation called LTE that come from words Long Term Evolution and equals to 4G, although looking at it closer we notice that LTE-Advanced is the true form of 4th generation technology and its transfer speeds are substantially greater. In addition to LTE, the dual carrier (two 3G connections at the same time) and DC-HSPA are classified in the 4G category.
4G boasts the modem to new speeds compared to older 3G technology if, for example, you need to transfer large amounts of data. Of course, the speed is always affected by whether the modem is placed in a car in which case movement affects the data transfer speeds. In addition, network congestion and location must also be taken into account. Theoretical speeds are rarely achieved.
Industrial modems often have dual SIM slots, so you can take advantage of two different operators if one does not properly cover the area where the modem is located. Double-sim also calculates the risks associated with operator failure situations. If the application is critical, two modems (2x2 sim) can be connected, providing coverage for up to four operators and securing even the most critical connections.
See Siretta 4G industrial modem here
The differences of 3G and 4G industrial modems
3G and 4G are a different generation, but they differ mostly by their data transfer rate. In general, it can be said that older technology always covers a larger area and a faster connection a narrower area, as cell sites may not yet be found in every region of the world. Industrial modems cover many different connection technologies and in addition to new technologies have older connection methods too.
In consumer use, combinations of modem and router, i.e. so called combos, are often seen. They are also found in industrial modems such as Teltonika's rugged RUTX12. They are thus able to provide a connection and share it with several devices at a time.
Applications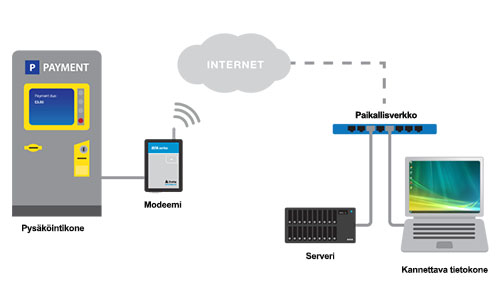 Industrial modems are used for many different purposes. They are definitely the most cost-effective way to provide an easy and reliable connection to industrial network applications. They can also be configured to detect the mobile operator, signal strength, and perform a complete network mapping to determine the optimal network for the location.
Usages:
Remote control and fetching of data with mobile phone network
Utilizing data from older devices
Remote software updates for remote devices
Mobile phone connections with little develop work
Controlling and supervising remote devices
Improving the performance of remote devices
Burglar alarm / Fire alarm / PIR-alarm's remote control
Got interested in industrial modems?
Do you need technical assistance for your application
or a quote for larger quantities?
Contact our product manager!
Jaakko Ruuska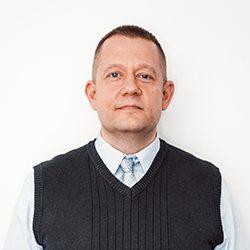 +358 10 289 1284
Industrial 3G and 4G modems